WHAT AND WHY TO MEASURE?
How many calories should I eat? How many times should I workout? What type of workouts are effective for my goal? What else will affect my progress? EfitBot QuickTrack was designed to address these fundamentals at the minimal level in order to produce results. Why the minimal level? Producing significant fitness results takes effort and commitment where the average individual struggles. Just spending about 20 seconds per day with EfitBot can make a difference!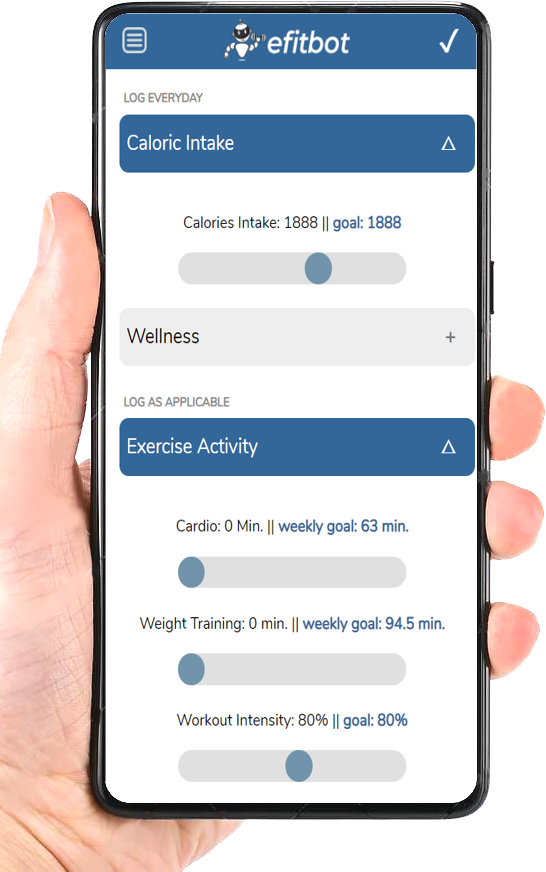 QUICKTRACK
For around 20 seconds per day, you can improve your lifestyle health by using EfitBot QuickTrack. Just a few incremental inputs daily, EfitBot analyzes your progress and makes suggestions accordingly. Each specific category has a simple sliding toggle switch which is adjusted regularly. The interface is very intuitive and easy to use. Quick Track provides all the important informative aspects to assist you on staying fit.
For the fitness enthusiast, check out EfitBot
Premium Version.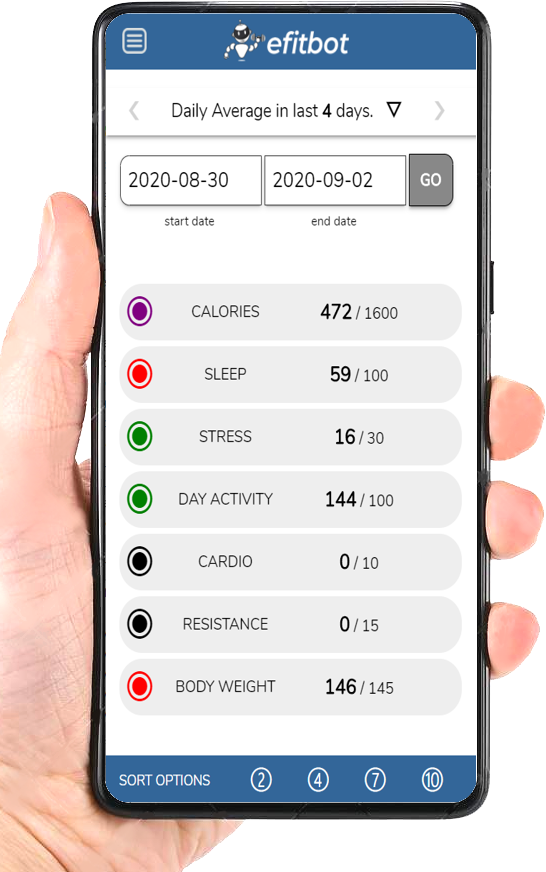 RESULTS WITH MERIT
Color status indicators
Dynamic date range selector
Progress Graphs
User Suggestion Tips
Simple Drop Down
Once a user inputs a few entries, EfitBot is ready to adjust your calories to consume, workout loads and intensity thus makes suggestions to ease your stress if necessary.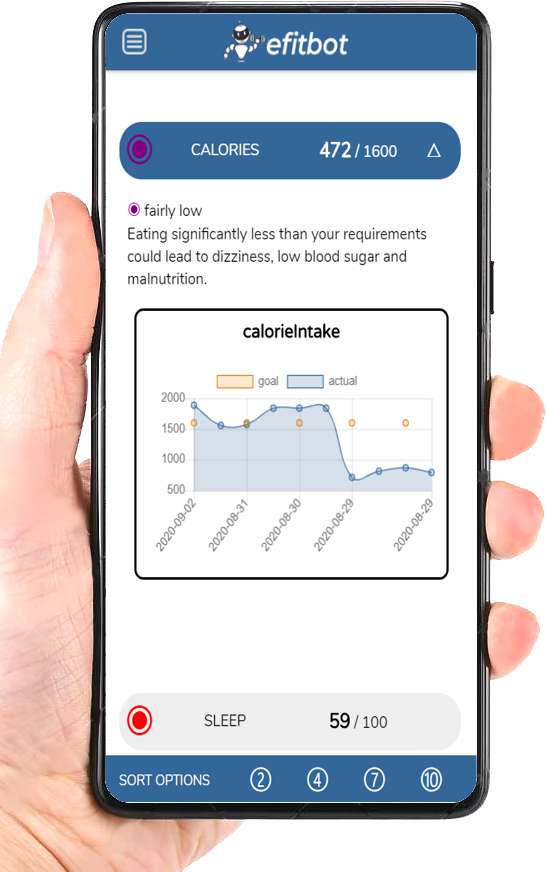 FOOD INTAKE
Food Intake is measured by the consumption of calories. For most people knowing the amount of calories consumed daily is all that is necessary to keep track. Yes, you can fine-tune your fitness program by counting macronutrients such as protein, carbs and fat however, none of this will matter if you don't keep track of calories. Calorie counting is King.


DAILY LIFESTYLE ACTIVITY
Most of us work 5 days per week. The majority of office people use to get dressed, commute and perform a gradual walk just to make it our workstation. Covid 19 has significantly reduced this regular activity for most. Some days a person may be more active than others therefore it is important to login these changes.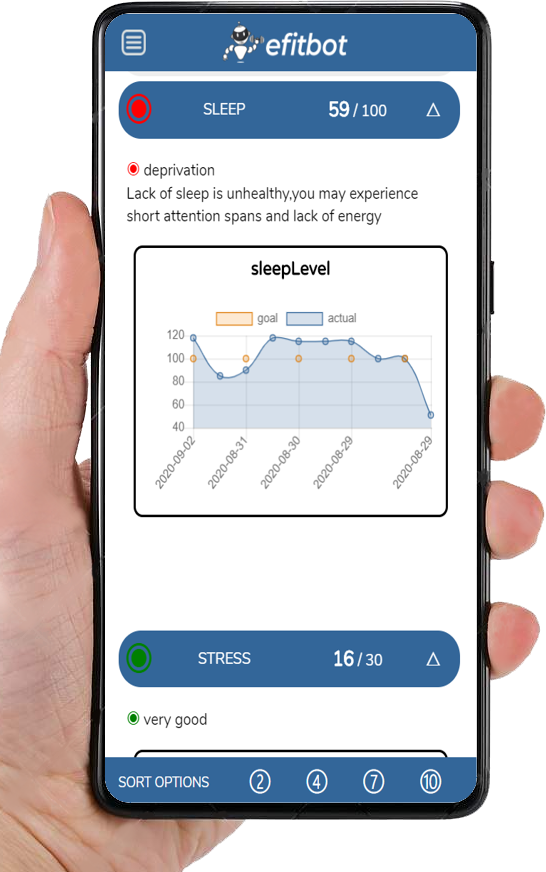 STRESS & SLEEP
Studies have shown high stress levels increase the hormone called cortisol. Excessive cortisol levels is known to increase weight gain and blood pressure.

Sleep is when your body recovers, restores and repairs itself. Sleep is when muscles develop. When muscles develop, you become stronger and speed up metabolism therefore assists with fat loss.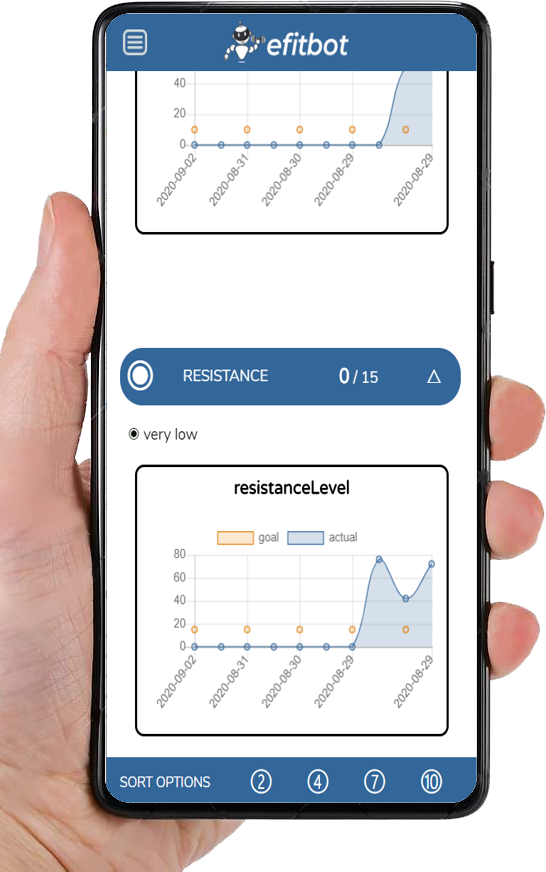 EXERCISE
Exercise is measured in two basic forms, aerobic (cardio) and anaerobic (resistance training) Most people believe cardio is the quickest was to lean out, but it may not be the most effective way on producing optimized fitness. Weight training, depending on how it is performed can produce significantly more caloric expenditure on a long term basis.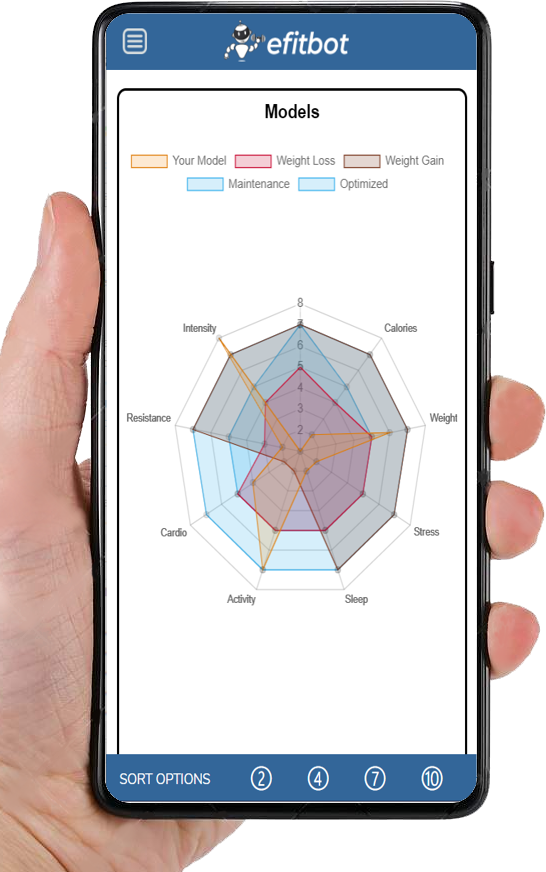 GOAL MODELS
Displays your Status Model
Displays Weight Loss Model
Displays Muscle Gain Model
Maintenance Model
Optimized Model
Radar Style Graph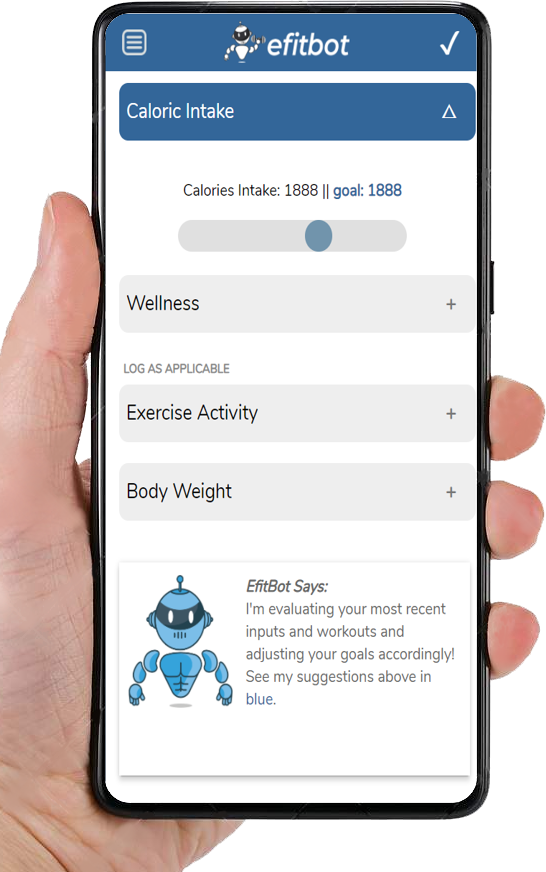 SMART LEARNING
Adjusts Calorie Recommendation
Adjust Stress and Sleep Recommendations
Adjust Exercise Recommendations
Status Indicators
Suggested Tips
Adjustable Date Ranges